that's what Stee called it.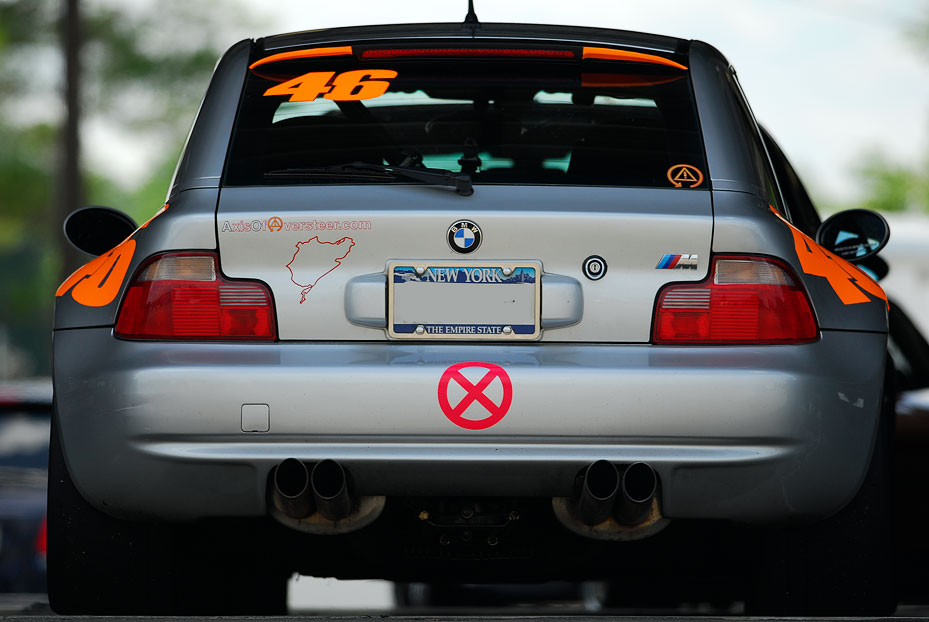 In one week the five of us managed a combined 13 track days, 2 races and a Pro-Solo Event. I don't know the others odometer are reading but I drove 1308 miles from last Tuesday: NYC to
Watkins Glen
to
Summit Point
, West Virginia back to NY. A mini One Lap Of America.
Many things happened, all good except for one incident of car to car contact which caused some bent body panels on my car. Very annoying but very fixable, the video will provide for some interesting analysis and discussion later on in the week.
but let's cut to the competition highlights of the week end: Adil came in second at the
Washington DC Pro-Solo
in Street Touting Unlimited with his Evo IX: great job Adil!
Pro Solo mixes autocross with a drag race start where reaction time is key. Here are some of Adil's emails to us during the week end:
"Friday was christmas tree drag start launch practice. Most people did a few passes. Having never done drag starts, I decided to keep trying until I got a 0.5x reaction...poor clutch. It took 15 attempts. The Evo clutch is stout!"

"Holunfie doing well again. John Winchester leading Kevin Lau for a 1-2 BSP Sweep. I am just holding down 2nd in STU, Corey is on top by 1/2 second.
More launches today..clutch is holding. Pro Solo is very fast paced and I think Lee Piccone did a pair of great courses. "

"This stuff is insane. Very fast paced. No time to water tires in between runs. Learned something from Dadio:

1) when looking ahead don't look cone to cone but entire areas with cones only in peripheral vision. That way u don't have that moment of 'lost' as u move your eyes from one section to the other.

2) don't think of anything during a run. The way to change a brake point or something else is to drive it that way mentally b4 the run to let your subconscious learn it.

Anyway as far as results for me, Corey won STU, I was one second behind and into second place. Coreu was 4th pax overall. Daddio 1st. Holunfier John winchester won BSP and was 7th pax overall. He is on fire.

Many thanks to the Holunfie crowd for helping with all things during my rookie pro-solo. "



The
other highlight of the week has got to be BadBadM's driving in the second race at Summit Point. He drives in the
Spec e30 class
which with
NASA
gets bunched in on the track with the Spec 944 class and for some bizarre reason, the Toyota formula racers! It's chaos out there.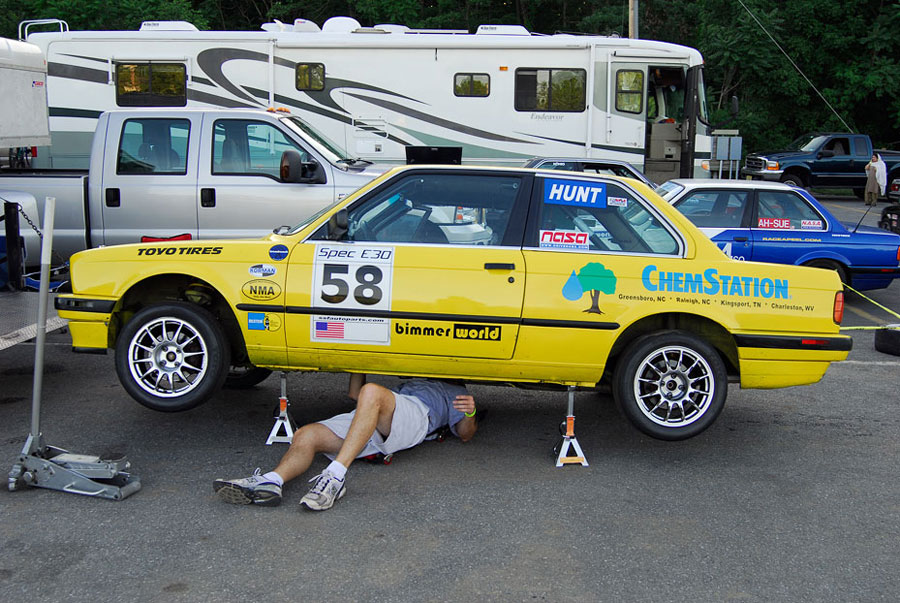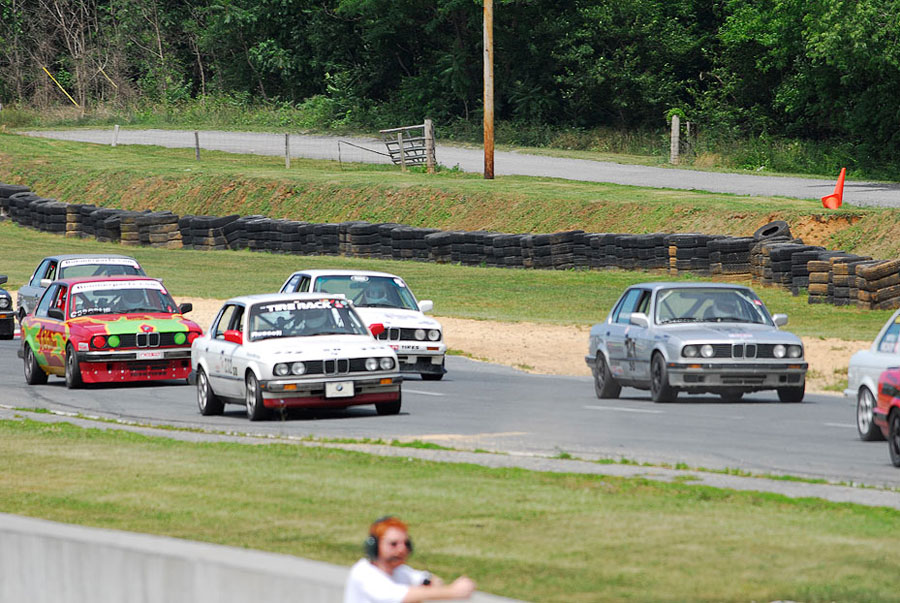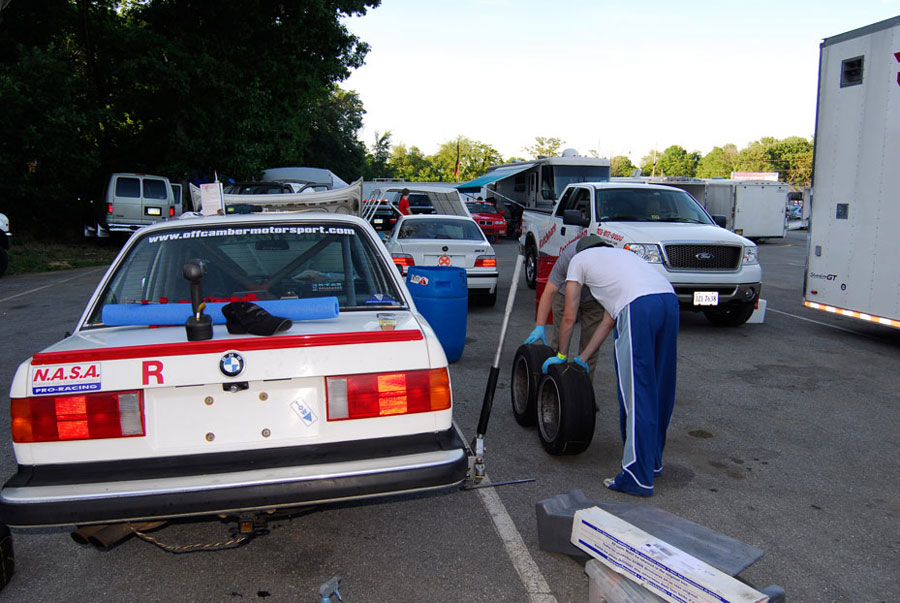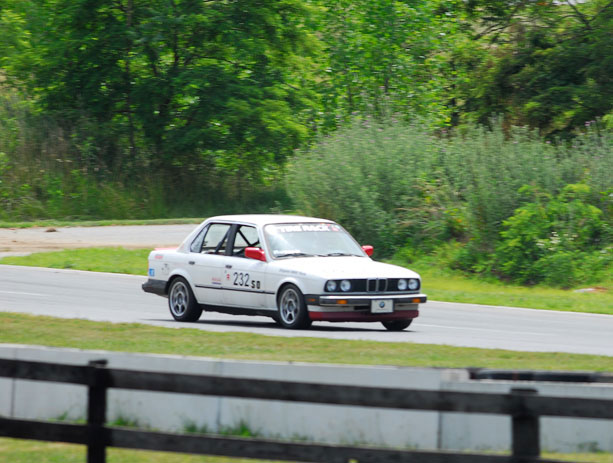 I have prepared a video of the entire race, 17 minutes (109meg.). It is very much worth the wait for the download. I think there may be perhaps one lap where nothing much happens, the rest is fantastic close racing. BadBadM has learned some great moves out there and seems to have a fondness for the carousel section of Summit. A great moment is when he pressures the gray e30 in front in the last two more erratically, misses more and more laps: Mr. Gray starts driving more and apexes until he finally spins out just in front of BadBadM at turn 3
.
The race ends with a red flag because of a "Porsche in the trees"...no injuries though as far as we know. BBM comes in 6th (we think...since no official results were posted as on yesterday...he might
have been seventh
!"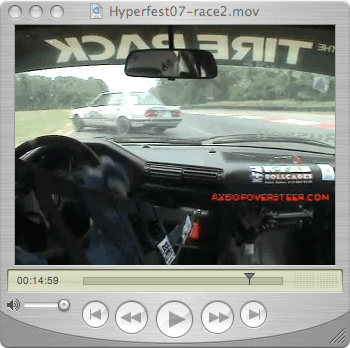 download