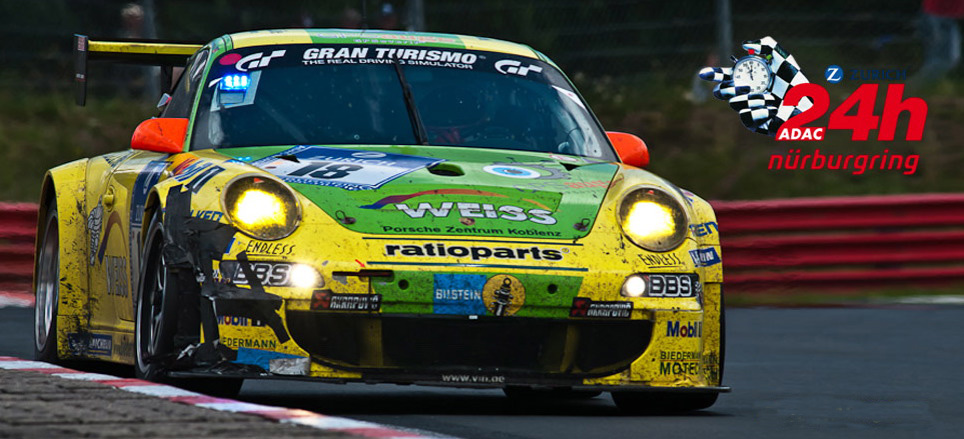 Victory for Olaf Manthey's team with the Porsche 997 RSR of Marc Lieb, Lucas Lühr, Romain Dumas and Timo Bernhard.
Check out that RSR, that is a warrior's car!
Really, all those who finished the Eiffel classic deserve a big round of applause. Among them, a fantastic 20th overall for the EVO sponsored GT3 Chris Harris was driving and the 38th placing of or friend Sergio "Sergini" Negroni. Congratulations to everyone!
Videos are on a
separate post
but make sure you hop over the jump to see some great shots Julien Mahiels sent for us. Brilliant as usual!
The start via Clashproduction
And the Finish


2011 24 Rennen by Julien Mahiels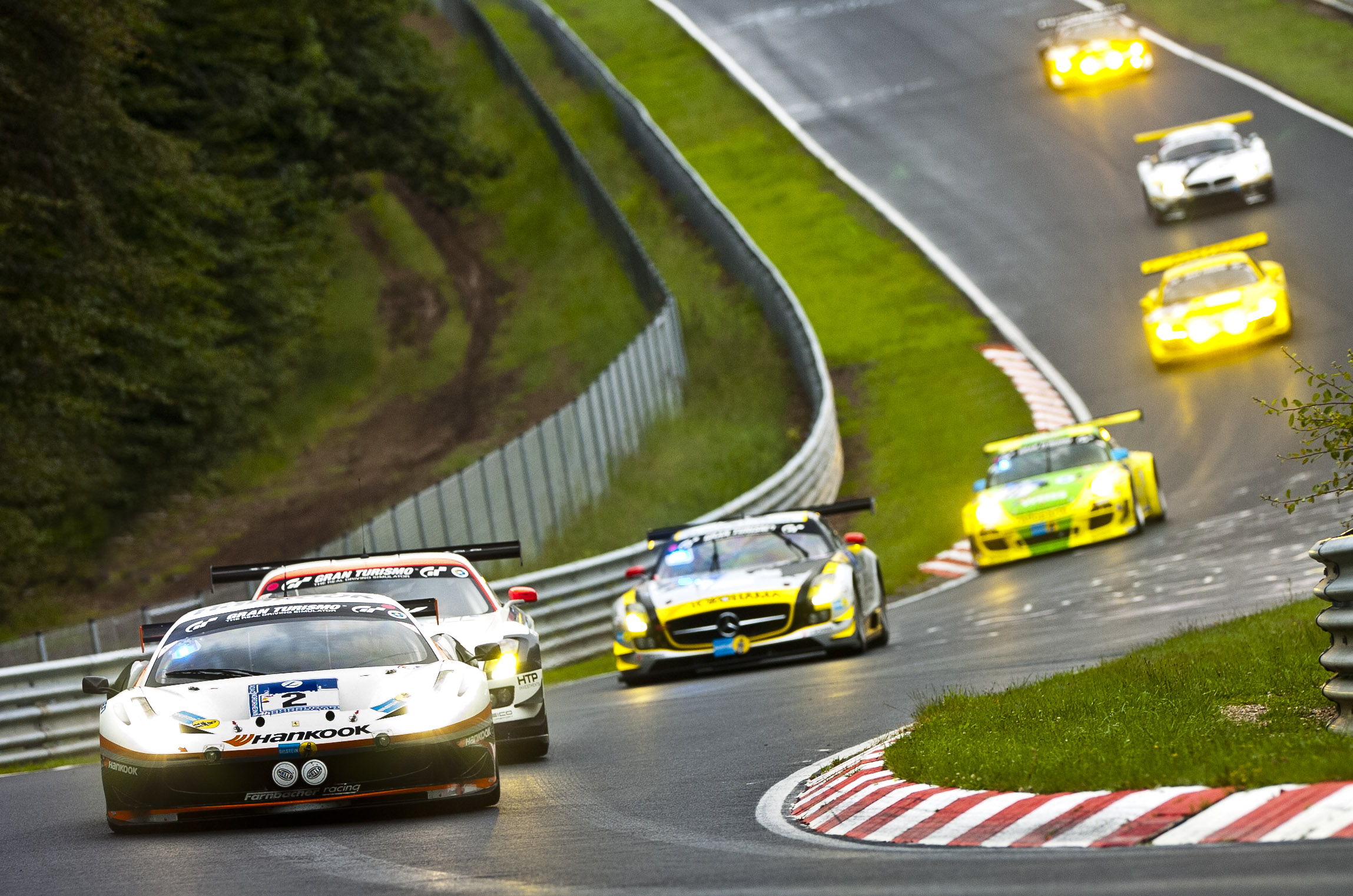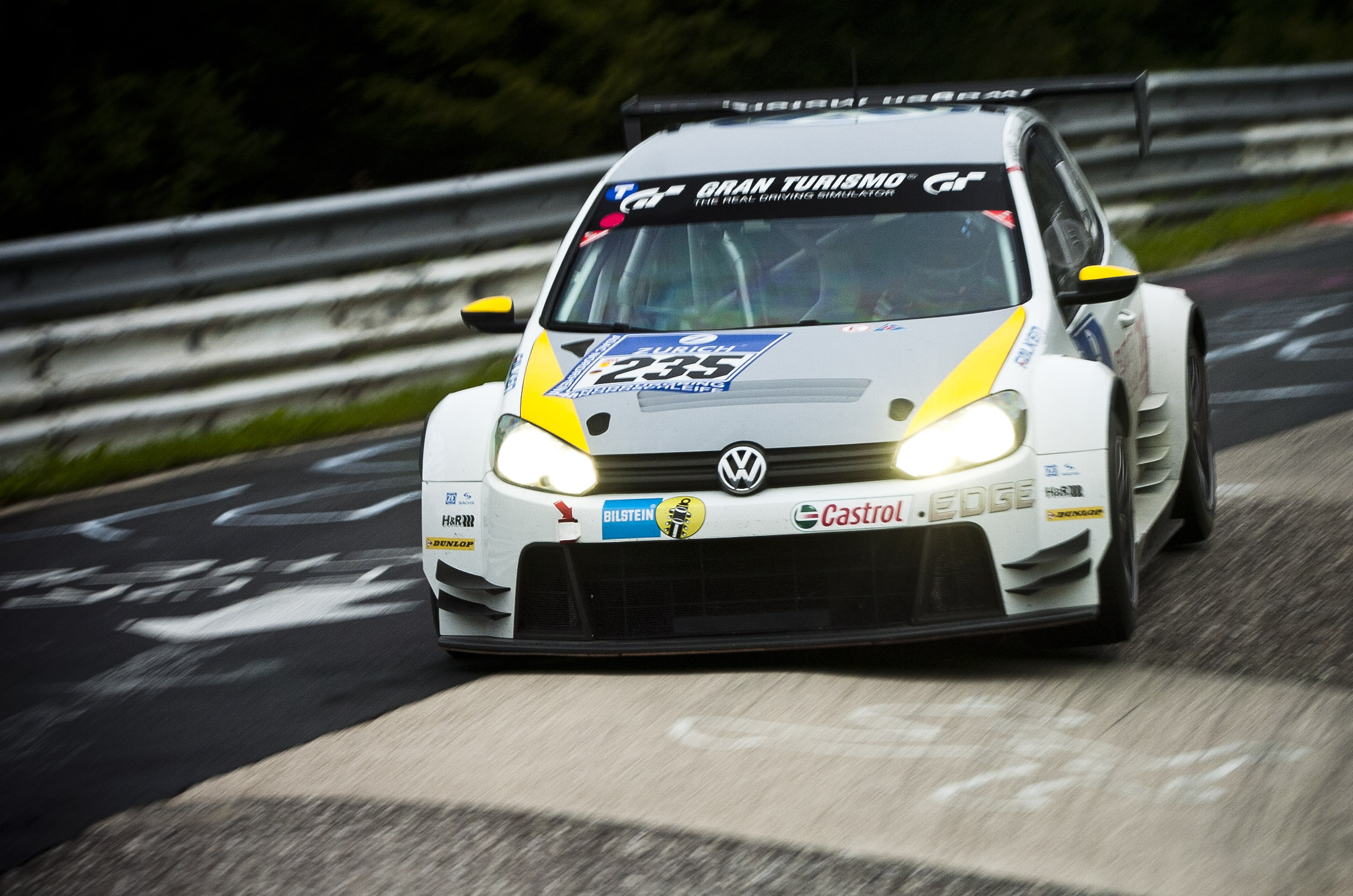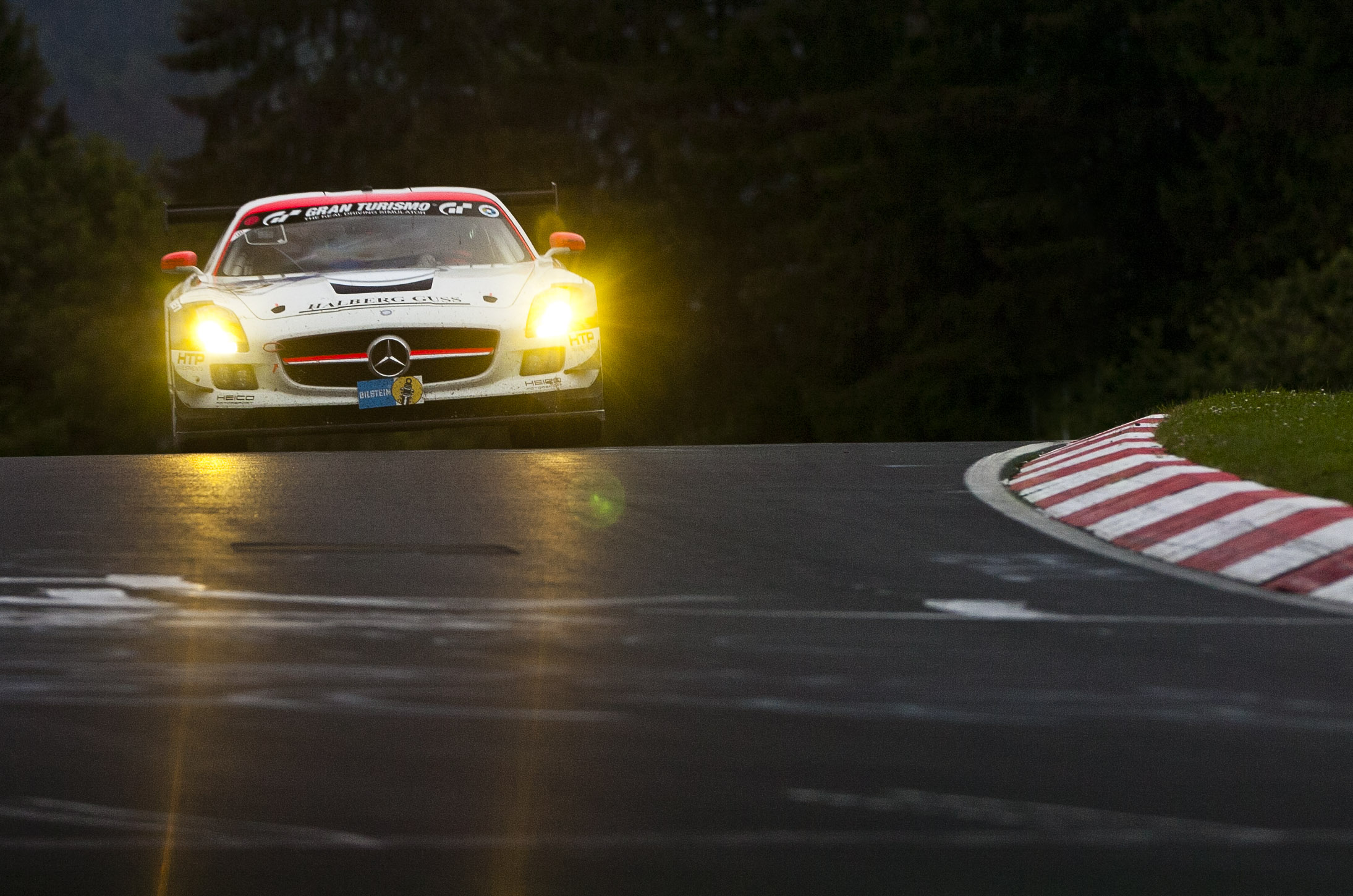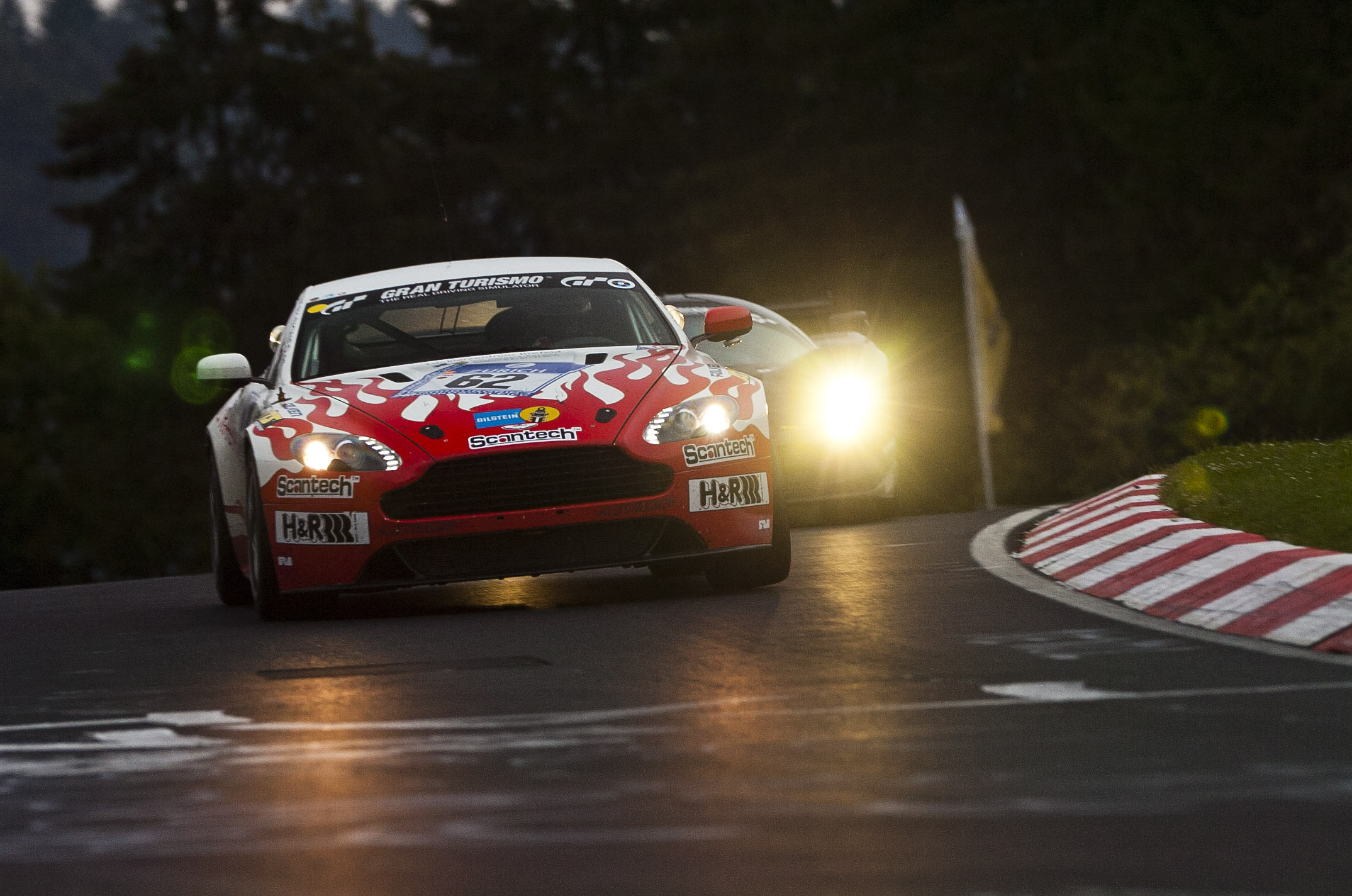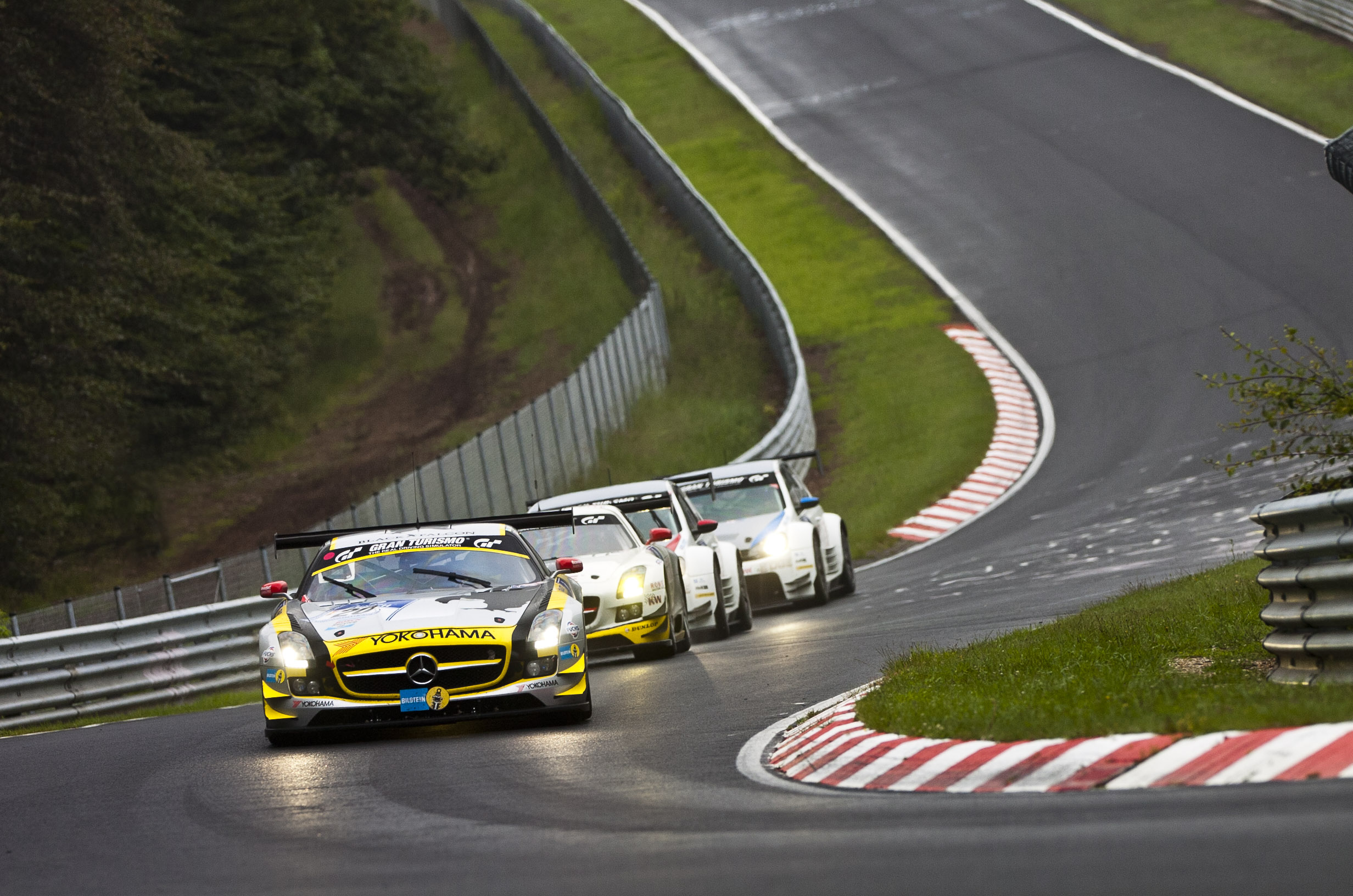 Pos. Nr. Fahrer Rund Zeit
1 18 Lieb/Luhr/Bern/Duma 156 9:50.166
2 1 Mül/Farf/Alze/Lamy 156 9:24.921
3 14 Bass/Fäs/Picc/Stip 155 9:37.582
4 15 Stip/Henn/Haas/Wink 154 9:40.398
5 16 Ekst/Sche/Wern/Abt 154 10:37.689
6 22 Heye/Jäg/Blee/Seyf 153 9:03.563
7 32 Arno/Marg/Brü/Fran 153 11:05.863
8 2 Farn/Simo/Seef/Melo 152 9:43.708
9 26 Abbe/Schm/Kent/Berg 152 9:36.345
10 12 Weis/Kain/Jaco/Krum 151 10:44.891
11 21 Meht/Bres/Bres/Rös 150 9:33.726
12 17 Ludw/Mies/Jön/Abt 149 11:29.063
13 8 West/Menz/Stur/Rieg 149 9:29.581
14 125 Amme/Biel/Klin/Tomc 148 9:26.303
15 34 Stuc/Stuc/Stuc/Rost 148 9:48.516
16 27 Illb/Lauc/van /Hege 145 11:11.739
18 28 Schm/Boll/Bark/Spei 145 9:43.770
19 55 Bour/Kiki/Forb/Feid 145 10:16.791
20 56 Coop/Spur/Harr/Horn 143 10:51.390
21 155 Yosh/Sasa/Enge/van 142 11:43.273
22 10 Gind/Kohl/Scha/Wlaz 142 9:34.086
23 82 Gutt/Füb/Kies/Keil 140 11:47.156
24 133 Deeg/Wohl/Breu/Haug 140 10:42.975
26 7 Mül/Wern/Ador/Lamy 139 8:58.722
27 117 Sain/AL-A/de V/Nied 139 10:39.792
28 9 Berg/Liet/Holz/Long 139 12:01.436
29 134 Wase/Wase/Löh/Löh 137 10:02.471
30 81 Plen/Neus/Kapp/Sehe 137 10:36.406
31 100 Rost/Simo/Land/Krä 137 10:19.766
32 225 Knec/Metz/Sche/Leis 135 10:40.003
33 234 Unge/Zils/Fisc/Schu 135 12:18.880
34 80 Jeli/Sehe/Grü/Stra 135 11:21.893
35 142 Bohl/Groh/Bart/Proc 134 13:04.142
36 67 Korn/Korn/Stil 134 13:57.270
37 71 Schu/Schu/Yama/Yama 134 10:59.635
38 60 Wern/Hude/Negr/Rizz 134 11:52.630
39 70 Kenn/Eber/Tenc/Robs 133 10:27.756
40 23 Salo/Capp/Lari/Giov 133 10:17.739
41 89 Walk/Moet/Moer/Ross 133 11:09.448
42 88 Iida/Ishi/Oshi 133 12:23.624
43 230 Guse/Herw/Trin/Kath 132 11:17.390
45 170 Schm/Jack/Lore/Mihm 132 12:12.368
46 45 Dr. /Dr. /Edel/Grim 132 11:11.324
47 116 Nied/Ickx/Wyss/Ostm 132 10:30.303
48 51 Baun/Kük/Sale/Kala 132 12:52.947
49 44 Henz/Dumb/Ragg/Asch 132 10:57.990
50 62 Webe/Nils/Berm/Nitt 131 9:59.586
51 20 Lebe/Ples/Rose/Scha 131 10:27.988
52 124 Bren/Mül/Eick/Andr 131 11:57.321
53 52 Kauf/Less/Osie/Schr 131 11:33.294
54 222 Frei/Abeg/Funa 131 11:09.292
55 109 Purt/Klet/Hube/Tepe 130 34:39.668
56 201 Bohr/Cail/Nett/Prem 130 12:02.426
57 48 Pern/Lund/Andr/Ljun 130 11:04.648
58 241 Reng/Ober/Ober/Tsch 130 10:47.931
59 72 Scot/Ower/Schl/Mill 130 11:44.326
61 140 Frit/Niem/Nack/Frit 129 10:44.871
63 126 Hohe/Joha/Moli/Picc 128 33:46.021
64 238 Manh/Mül/Prym/Pfl 127 11:08.361
65 137 Hund/Berg/Schn/Dupo 127 12:52.510
66 127 Wöl/Bres/Gags/Foes 127 11:10.269
68 182 Kirs/Walt/Schu 127 12:18.402
69 218 Pfle/Asse/Marb 126 15:15.542
70 233 Zabe/Buch/Stei/Stei 126 14:00.677
71 93 Pove/Shep/van /Mart 126 11:32.010
72 227 Enzi/Reit/Krel/Krel 126 11:26.438
73 53 Nitt/Möl/Gebh/Krum 126 10:31.482
74 73 Kohl/Duff/Rice/Lewi 126 10:46.252
75 138 Näh/Palu/Schm/Glö 126 12:29.057
76 143 Immi/Moor/O'Re/Hack 125 12:58.072
77 219 Fisc/Lipp/Holl/Jaku 125 12:08.465
78 145 Kitt/Mül/Dr. /Schn 124 11:37.097
79 250 Grif/McFa/Perr 124 10:58.579
80 107 Rehs/Rehs/Wolf/Rein 123 12:18.209
81 131 Ross/Roma/Vari/Rapp 122 11:53.512
82 212 Silv/Burg/Sigw/Mies 122 12:11.211
83 49 Carl/Carl/Lars/Lars 122 11:01.765
84 239 Rocc/Mase/Dena/Ehlk 121 11:29.771
85 6 Turn/Kats/Thom/Stum 121 11:13.110
86 79 Krum/Schm/Eckh/Tana 121 14:08.838
87 90 de T/Depo/Haez 121 10:18.870
88 54 Moor/Came/Lock 121 10:21.375
89 57 Jode/Dest/Zieg/Paue 121 9:49.057
90 193 Haid/Hilt/Höt/Schu 120 12:26.203
91 248 Hick/Corb/Cock/Eady 120 12:22.861
92 183 Berg/Wart/Radu/Schr 120 15:10.087
93 236 Weid/Wack/Schm/Mert 120 24:35.051
94 156 Holz/Poet/Schi/Jord 118 1:07:31.146
95 3 Dr. /Schu/von /Mars 118 11:25.990
96 216 Lake/Wimb/Gös/Simo 118 12:09.795
97 167 Hanc/Zuho/Dr. /Al-A 117 14:01.060
98 202 Hani/Lein/Keut/Tren 117 12:56.679
99 65 Thii/Smit/Bunc/Huis 116 10:04.657
100 232 Wilm/Pete/Zens 116 11:37.443
101 112 Tisc/Beck/Brin/Tisc 116 16:57.474
102 184 Prew/Lass/Brio/Euse 116 11:39.888
103 207 Acke/Riem/Klin/Gorb 116 11:03.912
104 123 Reic/von /Lach/Kran 115 11:54.210
105 213 Kuhl/Gies/Drö/Heit 115 15:06.461
106 204 Schw/Spor/Holz 115 13:48.111
107 4 Hart/Vieb/Coro/Hür 114 9:13.319
108 247 Mc G/Spar/Lowr/Tayl 114 12:55.307
109 119 Pagn/Nury/Sala/Rive 114 11:40.094
110 111 Mül/Rudo 114 11:52.993
111 176 Juul/Grö/Henn/Dubl 114 11:17.216
112 139 Penn/Holo/Konr/Hahn 114 12:00.343
113 146 Viet/Mart/Schm/Wass 114 12:08.521
114 243 Wolf/Bour/Reic/Rett 114 11:36.954
115 144 Fuge/Wäc/Zelt/Cora 114 10:55.613
116 199 Hani/Eich/Ansp 113 12:28.519
117 172 Schn/Vice/Hart/Schl 113 12:58.189
118 235 Herb/Rast/Bern/Blun 112 9:17.964
119 168 Walk/Weid/Kell/Henk 112 14:54.559
120 5 Porr/Mead/Cate/Math 112 11:24.631
121 246 Sets/Pett/Bjoe/Gust 111 12:48.005
122 171 Dohm/Tren/Lied/Klei 110 13:16.147
123 221 Sorg/Meis/Bara/Sorg 109 16:04.438
124 181 Breu/Thij/Verk 109 12:50.057
125 128 Wass/Schm/Kosk/Schl 109 11:10.140
126 154 Schm/Gaup/Mön/Heid 109 15:44.627
127 85 Neuh/Lamb/Loui/Niem 108 1:26:53.046
128 147 Lest/Bast/Henn 108 12:08.520
129 210 Herr/Hoen/Dr. /Herr 108 14:00.278
130 175 Hein/Kauk/Sten/Schn 107 15:38.887
131 180 Knap/Knap/Joha/Flin 106 21:02.594
132 159 Effe/Visi/Font/Borc 106 16:50.089
133 105 Scal/Truc/Klee/Thie 106 11:57.315
134 163 Ding/Frei/Kurt/Wei 106 13:03.098
135 164 Lama/Lama/Gira/Dona 105 12:23.229
136 153 Glan/Goto/Laut 105 15:43.845
137 148 Haus/Belk/Rath/Albr 103 10:31.769
138 209 Auer/Lenn/Brun/Kebb 102 13:50.468
139 177 Majg/Boru/Trä/O'Co 101 12:20.292
140 217 Hoff/Bard/Roth/Simo 99 13:12.968
141 160 Beck/Stry/Hass/Schu 97 12:03.226
142 59 Gros/Kluc/Gebh/Mape 96 1:03:18.704
143 75 Pfla/Venn/Blis/Sand 96 11:12.306
144 214 Sch 95 12:49.049
145 77 Buch/Posa/Maye/Sorl 94 9:02.877
146 220 Unve/Petr/Hart/Ito 94 10:51.609
147 173 Goed/Geis/Abri/Näs 94 12:02.995
148 31 Alze/Deut/Ludw/Bert 93 9:20.742
149 194 Balb/Cusa/Chah/Rodr 89 18:41.864
150 174 El B/Rica/Sale/Cers 84 12:01.903
151 87 Kino/Lott/Waki 83 10:50.467
152 231 Gart/Stub/Stub 80 10:30.560
153 215 Kram/Rebh/Knud/Cham 78 12:22.334
154 64 Mön/Mull/Chri/Quai 75 10:12.782
155 162 Oliv/Jure/Wolt/Brü 75 12:24.784
156 200 Prem/Coch/Joua/Cail 72 10:30.554
157 237 Kish/Svep/Maej/Buss 68 10:51.527
158 150 Jäg/Mich/Stip/Schm 67 26:07.271
159 203 Caba/Lang/Spru 67 11:15.114
160 161 Sch 66 15:41.302
161 195 Vett/Weis/Pren/Weid 63 10:40.158
162 178 Dose/Hetz/Mazi/Weya 63 13:43.901
163 76 Sand/Miln/Lars/Hür 61 9:04.736
165 141 Naca/Bert/Chec/Bian 59 10:35.864
166 36 Rolo/Rehf/Haup/Sche 58 9:48.306
167 24 Schm/Kosl/Geul/Frer 56 9:59.392
168 50 Huis/Fric/Derc/Tand 53 9:13.720
169 106 Scha/Crem/Coln/Krö 53 11:56.940
170 19 Holt/Lieb/Hoff/Cook 51 9:27.140
171 122 Bran/Krat/Plat/Höm 50 10:11.127
172 30 Mame/Hahn/Kaff 49 9:01.591
173 40 Ditt/Ditt/Smol/Lung 49 11:50.663
174 240 Hede/Will/Kell/Weig 48 10:48.221
175 58 Krum/Fuch/Schl/Mahl 44 10:21.244
176 152 von /Oest/Serr/Scha 43 10:17.880
177 35 Tert/Thii/Mail/Rast 40 10:03.865
178 151 Hert/Sand/Böl/Hamm 39 19:09.831
179 229 Smit/Thor/Reim/Reng 39 11:16.343
180 135 Muts/Ekbl/Simo/Mort 37 8:55.983
181 249 Delv/Mari/Beul 37 46:10.741
182 108 Kudr/Leut/Nack/Pack 36 9:56.663
183 166 Mül/Boto/Mars/Hawn 35 11:07.654
184 69 Adam/Good/Klas/Meie 34 8:44.041
185 245 Flin/Gies/Gron/Gron 30 11:12.425
186 41 Schu/Schu/Berl/Köp 29 10:10.449
187 43 Rose/Leem/Flac 28 10:04.726
188 149 Schj/Gulb/Krog/Ostv 27 12:00.704
189 169 Aust/Stre/Hofm/Sche 27 9:37.694
190 205 Smud/von /Wilk/Schr 25 12:12.135
191 244 Jaco/Dr. /Cass/Wang 24 12:26.776
192 223 Koll/Berm/Hess/von 22 10:48.140
193 158 Weil/Feid/Rink 16 10:28.881
195 11 Lieb/Bern/Duma/Luhr 13 9:01.377
196 37 Schr/Sieg/Mich/Rydq 12 11:48.909
197 206 Jest/Schl/Memm/Memm12 11:16.573
198 114 Nöh/Whit/Cox 11 11:47.988
199 29 Grub/Vogl/Dess/Akat 10 9:16.258
200 91 Gro 10 20:31.386
202 136 Nial/Harv/Nial/Pila 1 12:00.738