Re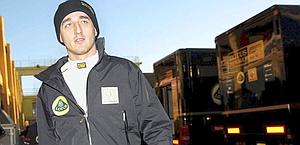 ports say he suffered multiple fractures he might lose the use of one hand. Terrible news for
Robert Kubica who was contesting the Rally Andora in Italy when he lost control of his Skoda Fabia, slammed against a wall and was trapped in the car. The guard rail penetrated the car and it took a long time, a shocking 90 minutes, to extricate Robert who was then airlifted to a hospital where he is being kept in an induced coma.
An official statement from Lotus Renault GP was non committal, but I would guess Bruno Senna will step in.
Get well soon Robert!
UPDATE: Kubica is as of 8AM ET in surgery with a team of orthopedic specialists. There are more serious concern because of internal bleeding.
Kubica was first attended at the scene by the crew of the next car behind, Mauro Moreno and Corrado Bonato.
Bonato has said
that the scene looked bad with Kubica crushed in the car and with "the guard rail passing through his foot".
UPDATE: This news report showing the accident aftermath claims Robert had an arm amputated, I have no other confirmations of this! proceed with caution. Kubica is said in the report to have suffered head injuries and a broken femur as well.
Video from the scene would suggest Robert must have hit the end of a guard rail with the metal penetrating the car as earlier reports suggested.
Final Update: Doctors were able to save Robert's limbs but question remain as to the functionality of his right hand. It's fairly safe to say he will be out for at least most of the season.