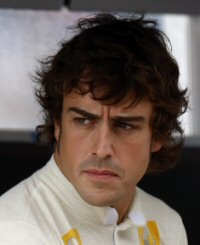 Sorry about the title, but that image was just too amusing to pass up.
Anyway the latest news comes because of a radio interview given by BMW Spain's communication director, a Mr. Gigi Corbetta. In the interview Señor Corbetta admits that talks have been ongoing with Alonso and that Kimi Raikkonen's recent signing is "speeding up the process" but, he admits "we will have to wait until the end of the season".
Meantime, Alonso has said nothing will be decided until after the Singapore GP.
With all the excitement towards the front of the grid, not many noticed Alonso's last lap at Spa: He stopped, changed tires and in less than one lap makes up 4 positions, and that included waiting for a yellow flag!
An Axis reader sent us a clip of that last lap, check it out at the bottom. (thank you Ivan Maeder!)
Interesting about Raikkonen's contract that it seems like it was not so much that Ferrari signed him but that the Finn exercised the option he had on his contract. Obviously a good move for Kimi especially during his current "cool" streak. Maybe Ferrari, are happy to have continuity. We, the public, certainly would love to know why Raikkonen keeps getting his setup so wrong this year...
(via
F1grandprix.it
)



And here is the rest of it.