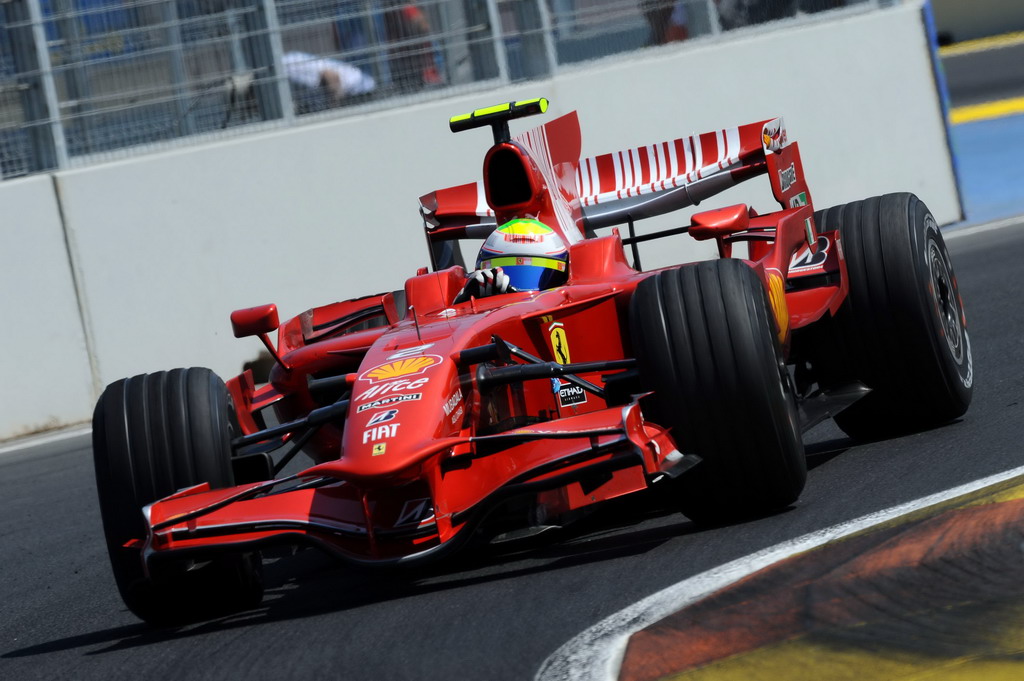 The quote is attributed to Norbert Haug watching the fireworks after the podium ceremony in Valencia. Love that dry German humor, of course the other Ferrari engine was much faster than the Mercedes lump behind Lewis Hamilton today, something that was curiously blamed on the flu....


Again you have to feel for Massa. He drives a fantastic race, pole, fast lap and win, nobody else even close and he does it in what will be forgotten as the most boring race of the season.

There was much hype regarding this new circuit in Valencia. As the race progressed I kept thinking I was watching a CART race minus the crashes and the passes. And while there happened to be, completely by accident I'm sure, gorgeous model types framing the panoramic television shots, you could not escape the fact that they were hiding what in reality looked like a race in an industrial park. For some reason I envisioned the cars ripping around Calatrava's space age buildings but all we really got is a rather ugly looking bridge.

On the plus side, the track is so wide that perhaps, if the new aerodynamic regulations for 2009 do their job, there might be some passing. Flavio Briatore said this is the model for many future Formula1 venues and Bernie Ecclestone was said to be so enthusiastic that he proposed the name be changed to Grand Prix of the World. I'm with one of our readers who is disgusted by a track which is nothing much more than a concrete gully.

Back to the race. Aside from the obligatory David Couthard crash and a Nakajima stupidly putting Alonso out (Fernando did not complain in the least when interviewed but blamed himself for having qualified so poorly) there was zero racing action on the track. This again punishes some drivers and teams who had excellent results: Kubica who destroyed his teammate once again. Trulli who never got to set up his car and just drove what he got to a fifth place. The Faenza Flash, Toro Rosso which will always be Minardi for true F1 fans, with Vettel was awesome.

Then of course there is the Kimi conundrum. OK, he was compromised by starting on the "dirty" side of the track at the start but he lost a position to Kovalainen and did nothing much until about lap 30 when he showed some fight.

Here we can take two tacks, either we believe in a crisis of confidence (which makes for more exciting headlines) or we can choose the party line laid out by Herr Schumacher before the race. We don't know if Ferrari who might have suspected a possible issue similar to the one in Hungary, had his engine dialed back. Certainly his best lap times were never close to Massa's or even Hamilton's.

I would cut him some slack with regards to the pit lane incident, it was clearly his mistake but it was in the heat of a battle with Kovalainen. If anything it shows he was trying, not being lazy. He took responsibility for his pit lane blunder, unlike others. IN the end it was all academic, he was not going to finish.

More worrying, as he was shown walking through the garage after his epic engine failure, none of the Ferrari crew paid any attention to him and vice versa. Maybe it's a wrong impression but it looked like some unusual tension there.

Other race notes, Mclaren played it conservative with Hamilton's second stop. They could have short filled Hamilton and gotten out ahead of Massa. On a track that had seen zero passing this might have been a good gamble weighed against the wear on the super soft tires. Mclaren are thinking championship and this time chose to just play it safe. With Kovalainen instead they adapted their strategy to try and keep Raikkonen behind so they brought the #2 car in maybe three laps sooner than planned.
Turns out there was no need.

As Schumacher said with a grin after the race when asked about Kimi's engine: "That's racing!"



.