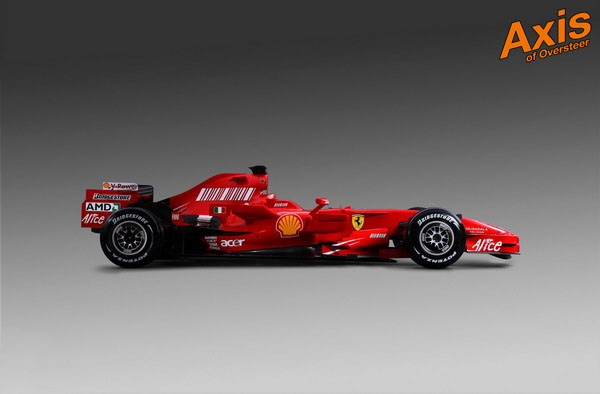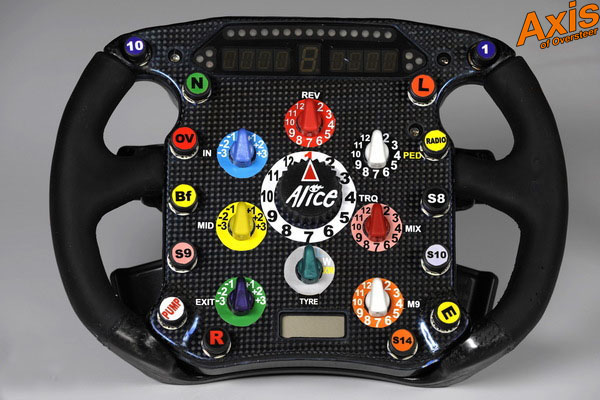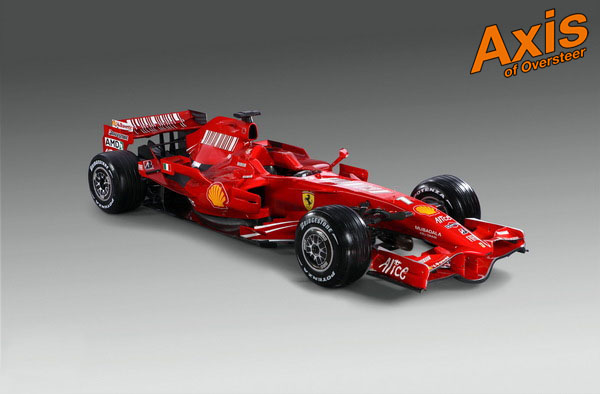 (images © Ferrari)
The F2008 is the fifty fourth single-seater built by Ferrari specifically to participate in the World Championship Formula 1.
The project, marked by internal acronym 659 is the interpretation by the Scuderia of the 2008 regulations whose main feature is the introduction of a new standard electronic system , called SECU (Electronic Control Standard Unit), produced by MES (McLaren Electronic Systems) and consists of a control unit and a single software whose development will be finalized to coincide by the beginning of the championship.
Other new regulations include: gearbox, which will be used for four consecutive events; safety, with the introduction of lateral protection highest in the area of pilot helmet; materials, with a limitation in the types of composites used. As a result of these changes has led to an increase in the weight of the car.
All aerodynamic surfaces have been completely revised, but the configuration that will be used at the first race will be completely different from today. An intensive development plan will continue throughout the season.
The chassis has been further expanded under the driver's legs, sidepods and bonnet have been more tapered.
The suspension system has been revised and developed around the new aerodynamics. Wheelbase and weight distribution were adjusted to the challenge presented by the new regulation and experience gained last year about the Bridgestone tyres.
Changes to technical and sporting regulations regarding electronics and the subsequent introduction of SECU led to the elimination of a series of drivers aids in such as as traction control, engine braking system and electronically departure control. Management of the differential , engine and gearbox have been greatly simplified. The gearbox will again be carbon and remains longitudinal. For the second consecutive year the gearbox will be "Quick-Shift", SECU adapted to the software and further sped up.
In the light of the new regulations, in terms of reliability the role of Shell gearbox lubricants are vital . The braking system has been updated with new and innovative concepts calipers and for cooling.
The 056 engine is mounted longitudinally and maintain its structural function. The basic structure remains unchanged compared to what approved at the beginning of last season but has been further developed as far as auxiliary systems, air and fuel intake.
The technical regulation also requires the use of petrol corresponding regulations of the European Union, with a content of components derived from biomass equal to 5.75%. As always, there is an important role of technical partners even at the design and development stage of the single-seater . The already mentioned Shell but also FIAT Research Center, in particular the use of simulation systems, and Brembo for the development of the brake system.
According to tradition, a great attention was paid to performance and the optimisation of materials, design and quality controls, trying to maximize the level of performance and achieve the highest safety standards possible.
TECHNICAL DATA
Chassis In composite honeycomb with carbon fibre
Ferrari gearbox mounted longitudinally
Limited slip Differential
semiautomatic sequential electronically controlled gearbox with quick-shift
gears: 7 + reverse
disc brakes air cooled carbon
suspensions independent strut with a torsion spring front / rear
weight (with water, oil and pilot): 605 kg
BBS wheels (front and rear): 13''
Engine Type: 056
Number of cylinders: V8 microcast aluminum : V 90 °
Number of valves: 32
Distribution: pneumatic
Capacity total: 2398 cm3
Bore: 98 mm
Weight: <95 Digital Electronic Injection: Magneti Marelli Electronic Ignition: Magneti Marelli Static Gasoline : Shell V-Power ULG64 Lubricants: Shell SL-1098