A shot from the Nürburgring web camera of the Nordschleife's entrance, today between 4:30PM EST and 5:15PM, Sauber BMW is running their Formula 1 car on the circuit, the first time an F1 car has run there since Niki Lauda's accident in 1976. Looks like the weather is perfect for the lap. We will bring you video as soon as available.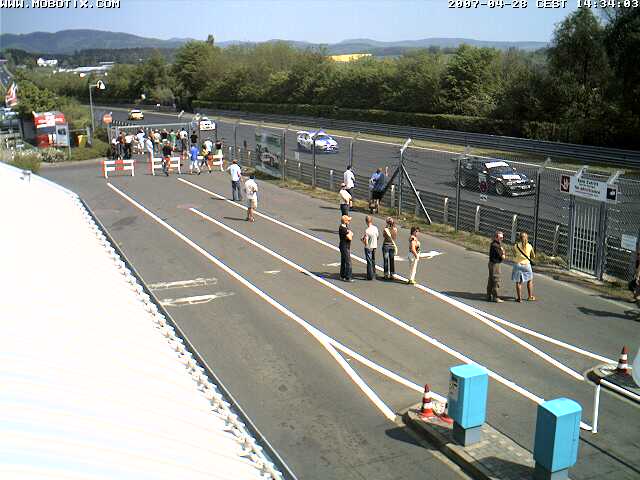 If you refresh the page every 60 secs, maybe you'll get lucky and see the F1 car go by in the picture below! If you catch Nick and you
SEND THE SCREENSHOT TO US
we will send you a set of Axis of Oversteer stickers. Happy hunting!
Update from F1-Live.com:
Nick Heidfeld will have his wings clipped when he tackles the Nurburgring's famous 'Nordschleife' layout in a BMW Sauber this weekend.

For a BMW event, the German will drive the 21km layout known as 'Green Hell' that almost claimed Niki Lauda's life back in 1976.

But team officials have clipped Heidfeld's wings by arranging that his F1.07 is equipped only with 'demonstration' Bridgestone tyres - which are significantly slower than the real thing.

Heidfeld is quoted by Auto Motor und Sport as revealing that he is 'disappointed' with the news.

It also emerges that 29-year-old Heidfeld will not round the Nordschleife's notorious and famous banked 'Karussell' section. "Obviously not," Team Principal Mario Theissen told the news agency sid, explaining that the steep and bumpy concrete banking will be off-limits to a modern Formula One racer.

Ultimate performance of Heidfeld's car will also be compromised by an extraordinarily high ride-height, but Theissen insisted that he thought the BMW Sauber would still reach impressive top speeds in excess of 300kph.

30,000 spectators are expected to watch the event unfold trackside on Saturday.
I found this Photo from the ring....yup they are wild and crazy guys up there in the Black Forest!