A first for me seeing snowflakes just as I'm heading onto the Pocono track last friday...hmmm, very British, wish I was driving a Caterham...right. Temperatures in the mid 30's (F) I would however much rather have these few flakes than raindrops so off we go.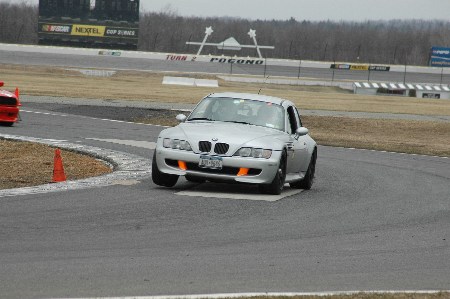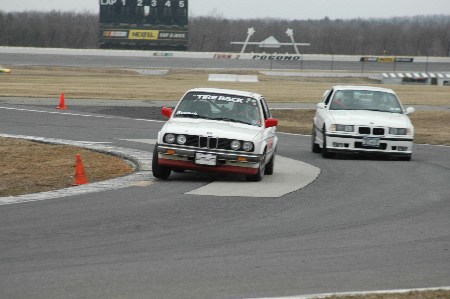 BadBadM was with me on Pocono North with
NY BMWCCA
and CG with our Caymanized friend Craig were on East with
NY Metro PCA.
Pictures courtesy of
Tom Branhoff, if you were there
Tom has a picture of you.
If you believe internet lore you would think that running on R-compound tires in such low temperatures is essentially a prescription for suicide, in reality I found that my Kumho V710's had great grip after just one lap. While this makes me wonder how these tires might be in august, I was happy to run my fastest ever time at that track and do so very consistently.
My best for the day was a 59.45 but I had many 59.xxx and 1:00.xx laps.
You can download the Traqmate
Data file for my 3rd session here
and download the
free Traqview software here.
It was also my first time instructing for NY BMW, had a father and son, It was actually very nice help both of them have a "a-HA" moment and discover the next level in their abilities. Nice.