We never post enough pictures of our own cars here, buncha lazy bastards we are. Shame too because BadBadM practically built his spec e30car from scratch in his garage after work, ThumperRay changed my whole diff in 15 minutes with one hand tied behind his back and Stee is building a spec Boxster...well, eventually he is.

So when Josh Sirota, an internet friend from GoDogGo Racing sent me some info on his current project, I though it would be cool to share:

JoshS writes: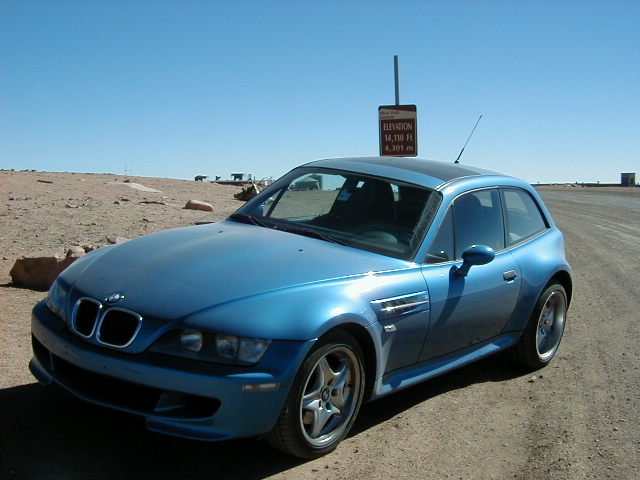 I'm finally back in a Coupe! I was a very early M Coupe owner. Ordered the car in May of 1998 based on the photos I'd seen in magazines, and picked it up in September. I autocrossed it a few times and found it to be a great car in the wet but a fairly lousy car in the dry. But I didn't buy it to autocross it, it was just supposed to be a fun street car and it was!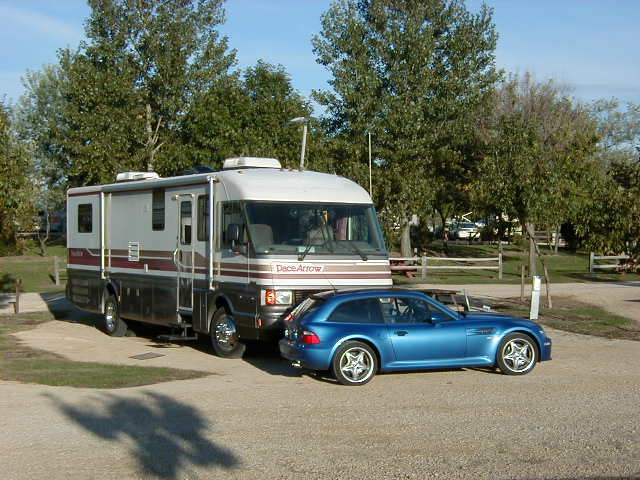 That car went all over the country with me and my motorhome in 1999. These photos are from the top of Pikes Peak, the Indianapolis Motor Speedway and somewhere in Minnesota.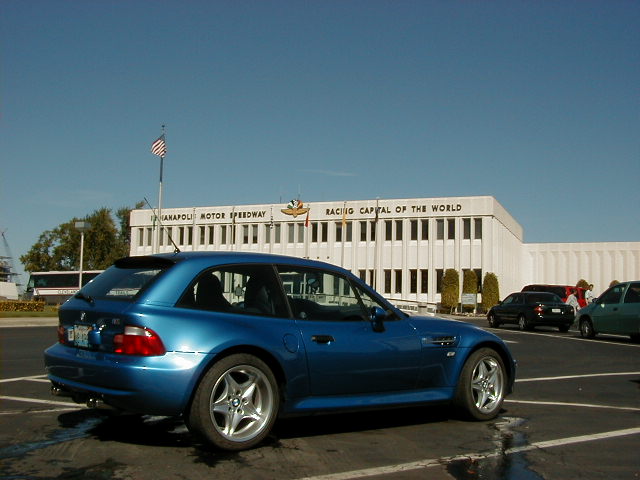 Still, in 2000, I found myself at the SCCA Solo Nationals in Topeka, for the 11th consecutive year, driving, you guessed it, a borrowed 2000 M Coupe. It was in Super Stock then and both myself and my co-driver (multi-time national champion) Jeff Reitmeir stunk up the joint. The suspension on that car is not that great on sticky pavement.

I sold my car in 2002 for a new E46 M3. I wanted the latest and greatest stuff with more creature comforts and more horsepower. But what I discovered was that although I enjoyed my gazillion-way power seats, navigation system, 6-speed transmission and all of that good stuff, the M3 just never stirred me the way the Coupe did. I found myself participating more in the online Coupe forums than the M3 forums, even though I didn't have a car. I knew someday I'd be back in a Coupe, but it wouldn't be a street car. I'd been there, done that.

I started Club Racing with the SCCA in 2004. That first season I rented a 4-cylinder Z3 from TC Kline for Showroom Stock B. By 2004 the car was considered well past its prime for the class but I had an absolute blast driving it and did pretty well against the then-dominant '99 Miatas. For reference, I ran in the 1:51 range at Laguna Seca, which is really a great lap time for a car with only 139 horsepower.

I then raced at the National level in Showroom Stock (Mazda3) and Touring (Subaru STi) for the next two years. Had fun but was a little disheartened by how much time and money it really takes to run at the pointy end of the grid at the National level. Here I was, a guy with a car, competing against factory-funded teams with full-time race-prep staff! I did pretty well, especially in the Mazda, but I wanted a fairer fight.

Then, last fall, the SCCA created a new class called ITR (Improved Touring R). IT has been around a long time, it's often considered an entry-level class because many of the cars, especially in the slower IT classes, are very inexpensive to buy. In addition, the cars have to be at least 5 years old, which keeps the manufacturers from being directly interested. But for years the fastest class in IT wasn't all that fast-- the fastest cars were the E36 325i and even they needed a restrictor plate to avoid trouncing the rest of the class.

ITR is just a faster version of ITS. Most of the cars came with somewhere between 180 and 225 horsepower in stock trim. The prep allows for minor engine mods (slight bump in compression, slight overbore, balance/blueprint), but stripped interior, any exhaust system, and bolt-on suspension mods. ITR allows all cars up to 17x8.5 wheels.

One of the cars listed for the class is the Z3 Coupe. This is the Z3 version of the M Coupe I used to have. It came with the 2.8L or the 3.0L engines. But the 2.8L is classed with a minimum weight of 2800 w/driver, and the 3.0L has to weigh 3200 w/driver. Seems like a no-brainer -- 2.8s are easier to find, cheaper, and get to weigh 400 lbs less. There's no way that the additional horsepower in the 3.0 could make up for the 400 lb. penalty, so I went searching for a good 2.8L car.

It took less than a month for me to find my Coupe. It's a '99 Z3 2.8, and it had 99K miles on it. But it was very well maintained by an enthusiast. And to top it off, it was down in Santa Monica, only a 6 hour drive away.

Within a couple of weeks, I found myself disassembling the interior, to prep it for the roll cage. The cage went in with some other related fabrication. While it was at the shop, I acquired a large pile of parts. Once I got it back, I spent a lot of hours in the garage installing parts, and then finally took it to an SCCA pre-season tech day to have the scrutineers look it over and issue a logbook. Although they noted 3 minor issues (the most complex of which is that I still don't have car numbers, class letters, or the other required decals on the car), they issued me a logbook. I'm official!


Speaking of graphics: here's a photoshop of the current graphics plan. If anyone out there is up for it though, feel free to suggest other things. I'd like to do things that aren't too complicated, because I don't have the ability to design really complex patterns. But if you do, I'd appreciate the help!

My intention is to race the car with the original engine, software, andexhaust system, for this season. It won't be competitive, but it's a new class, so the turnout will be light initially. To be competitive, it'll take a freshly built, limit-of-the-rules engine, with a good header, no cats, custom software or replacement ECU, etc. I'll research that and get that done later in the race season.


Without further ado, here are some current photos and a list of the mods
to the car. For many more photos, see my photo gallery.


Interior/exterior mods:

TC Design custom roll cage
TC Design interior panels
Sparco Circuit seat
Evosport seat mount

Momo Mod80 steering wheel
Extreme Performance quick-release
Schroth harnesses
TeamTech window net
Longacre convex interior race mirror
BMW convex left outer mirror
OMP fire system

Kill switch
Deka AGM battery
A/C removed
TC Design towing eyes
TC Design/Jaffster delrin shift knob


Engine mods:

Conforti intake
Zionsville radiator
Dinan cat-back exhaust.


Drivetrain:

Kosei K-1 17x8.5 wheels
Hoosier R6 245/40-17 tires
BMW 3.73 LSD
TCK wheel studs

Suspension:

TC Kline/Koni coilover suspension
H&R front swaybar
Offset control arm bushings
Dinan rear camber/toe adjusters
Korman delrin trailing arm bushings
BMW Motorsports Gruppe N subframe bushings
Strong Strut strut brace

Brakes:

Turner Motorsports brake ducts
TC Design brake duct foglight mounts
Hawk Blue brake pads
Stop-Tech stainless lines