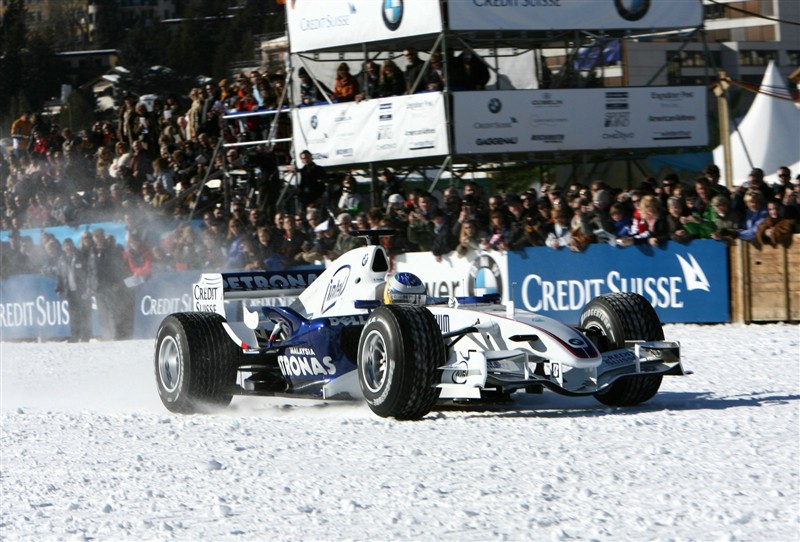 Bridgestone and BMW-Sauber have revealed their plan for complete domination of every future Formula 1 race held in the snow.
Perhaps they have the inside line on Bernie Ecclestone's plan for a Siberian GP.
A bit of harmless PR fun:
"Lucky visitors to the White Turf 100th anniversary event on Sunday 4 February were treated to horsepower with a difference when a BMW Sauber F1.06, driven by Nick Heidfeld, took to the icy surface of the frozen Lake St Moritz on a set of specially prepared Bridgestone Potenza F1 Snow Tyres.

Produced by Bridgestone Motorsport's Technical Centre in Tokyo, the special edition F1 snow tyres featured 420 studs on each of the front tyres and 588 studs on each of the rear tyres, mirroring the 4 studs and rubber plates attached to each of the racing horses shoes. It took two Bridgestone technicians over 16 hours to manually insert all 2,016 studs into the double layer of tread compound on one set of tyres alone.

The studs, made from tungsten and embedded in aluminium casings, were designed to specifically provide reliable grip on ice and hard-packed snow, making them perfect for this event where night time temperatures have been dropping to -15°C. BMW Sauber's pit crew also had to keep a watchful eye on the BMW F1 engine, warming it up every half hour to keep it from freezing.

Heidfeld, who wowed the 15,000 spectators with his on ice manoeuvring skills, said of his F1 drive: "That was quite a unique experience – just seeing the magnificent mountain scenery surrounding the lake is really impressive. The frozen track was of course much rougher than what I'm used to in Formula One. Although it was by no means easy to apply force on such a surface, I enjoyed the drive immensely."

When producing these special edition snow tyres Bridgestone put into practice its knowledge of road car winter tyre tread compounds. A soft, high-grip compound was used to enable the tyres to work at a much lower temperature range to those of between 90-110°C normally experienced by an F1 tyre.

The BMW Sauber F1 team ran the car at the request of team sponsor Credit Suisse, who are also the main sponsor and long-term partner to White Turf, an annual series of international winter horse racing."