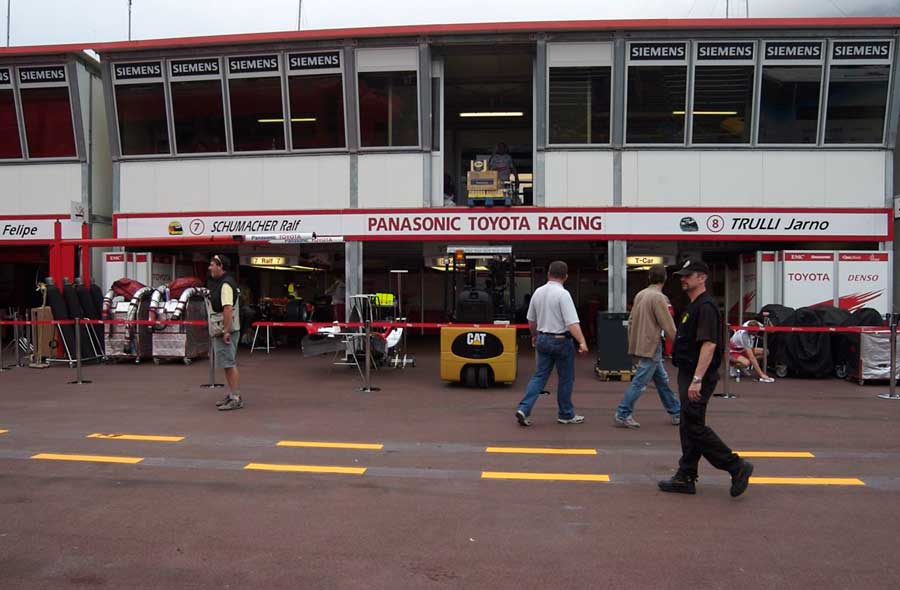 After the overwhelming success of the
Axis of Oversteer "Assie" award
, the renowned motorsport web site PLANET-F1.COM has decided to follow up with their
"Golden Arse of 2006"
award!... OK, so those British boys are a little late to the party but of course we welcome any form of much needed F1 related humor.
Axis Monaco GP album
"The PF1 Golden Arse Award

Following a season of dishing out the 'Arse of the GP' award, Planet-F1 has decided to award it's Arse of the Season, the top gong for ineptitude in F1. We've had Golden Globes, well, this is the Golden Arse.

Had it been awarded in 2005, then Takuma Sato would have been the clear winner for overtaking moves that looked so unlikely to come off, Tolstoy could have written a small novel in between when he launched his car up the inside and when the impact came.

This year Taku was no danger to anyone, other than at the Chinese GP when four cars were trying to get past him yet he was magnetically attached to the racing line, like some Scalextric slot car. Worryingly for the rest of his F1 colleagues Takuma only becomes a factor when he is running close to their speed, and in 2007, he will be back in the pack.

Announcing the awards in reverse order:

In third place, we have an organisation that committed such a stupid mistake, it might have rendered a multi-million pound investment redundant. What's more, they followed up their mistake by protesting that their first stupid mistake wasn't a mistake.

Let us point out right now that Schumi's parking incident at Monaco is not going to enter these awards, which are for sustained stupidity. Michael's error was done in a moment of madness. The Turkish GP organisers had weeks to think about their stupid move - deliberately not telling the FIA that the president of (politically sensitive) Turkish North Cyprus was going to present a prize on the podium of the Turkish GP.

They could have been staring at a position where after millions of dollars of investment, the race got cancelled. After all the post-race political furore, they even thought it might be a good idea to protest their $5m fine. Which even as this is written has yet to be paid. Talk about skating on thin ice...

In runners up position is a rookie who Ayrton Senna - had he been alive - would have cained. If he thought Eddie Irvine didn't show enough respect on his debut, then it's hard to think the extreme reaction that Scott Speed would have evoked.

Kimi Raikkonen was soon out of the 2006 title race and his exit, courtesy of Speed in Malaysia, didn't help. "I lost a wing and came back to the pits" was Speed's take on the accident. He lost his front wing by failing to brake for a corner and took Raikkonen out on the spot. This, he believed, was Raikkonen's fault.

In Australia he got a rare FIA fine of $5000 for abusive language, and at Silverstone he tried to overtake Ralf Schumacher going into the high-speed Becketts sweeps that are taken flat out. The subsequent accident took out both Ralf and Mark Webber adding to the monumental misery of the Williams team in 2006.

Afterwards, though, he wouldn't admit that the accident was as stupid as Yuji Ide's F1 career-ending prang at Imola and maintained that "Ralf didn't see me". Though you tend not to when you're going into a flat-out corner and the car behind is not even halfway alongside.

So, Scott Speed richly deserves his runner-up position.

However the gold goes to a man who is allegedly paid $22.5m a year. An incredible amount for someone who must rank behind Schumi, Alonso, Raikkonen, Massa, Button, Barrichello, Webber, Trulli and Coulthard in sheer talent. Neither does he keep his indiscretions solely to the racetrack, in the past he has had to hurriedly divest himself of investments in a company making sex aids.

In Bahrain he was busy asking his mechanics to make adjustments for Session 2 of Qualifying when they had to point out to him that he wasn't actually taking part in Session 2.

At the European GP he managed to take out both Red Bull cars with one solid nudge

At the Canadian GP he continued to drive around and around when he was seven or eight seconds off the pace. Stopping would have been so much safer. His mobile chicane of a car was far more dangerous in the blind sections of the track, especially later in the race when taking avoiding action meant going off line.

Jacques Villeneuve came upon him at speed, went centimetres off line and his car 'hydroplaned' on the marbles and hit the barriers.

In Germany accidents in qualifying, the race and almost in the pitlane marked this out as yet another stand-out performance.

If you hadn't already guessed, the 2006 Golden Arse goes to Ralf Schumacher. Overpaid is not the word.