Kevin York
said when I told him of "Uncle" Walter's recent comments on hybrids, today's rally cars and (not) getting older.
Porsche made Röhrl available to the press at an event promoting the new Cayenne, EVO was there and
reported these priceless quotes.
Walter was... on a roll:
Where does (Röhrl) see Porsche in 5 & 10 years; what technology does he think will dominate?
First of all I hope we never have a 911 electric car. These hybrid cars, you cannot take things back I think. We have to live for the next 10-15 years with these things.
Looking forward maybe we will get a new system, because I still think electric isn't the future.
To produce all these batteries, or recycle all these batteries, it's so much energy that it cannot be the right thing.
Cayman GT4. Is it better than the GT3 for you? What cars do you own nowadays?
The
GT4
is a perfect handling car, it's a proper race car with a mid-engine. Lets say on a twisty mountain road, like in the Alps, I'm sure you're in the right car if you're in a GT4.
If you come to a racetrack like the Nurburgring, then you need a lot of power as you have many fast parts. Then of course the GT3 has more power and the GT3 is the better car. But for somebody who says 'i want to own a Porsche because I have fun driving', the GT4 is a fantastic car.
Do you think Porsche should do a works WRC car?
No. If you see the WRC cars, they are not sports cars. That is, they are using cars which a lot of people buy.
They use it just for publicity. Why would you use a Polo or a Citroen DS3, these are normal cars for housewives, but of course, it's something the factories wanted.
Spectators see it and they think, oh it must be a good car and then they sell big numbers.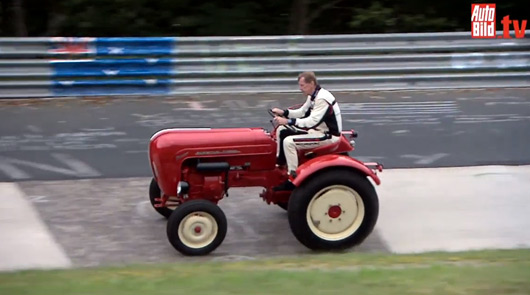 Mr Rohl. Out of any car. Can be a Porsche, I don't mind bias. What would you take out on a nice quiet country road at 2am for a drive and a think. To relax and order your thoughts.
Relaxing. Not for fun? Ok, I think I can use a Bentley. I remember once I was on the motorway and I passed a Bentley and my wife was sitting beside me.
My wife said to me, 'oh if we get old', it could be a nice car. We are already old. A Bentley is a fantastic car, it's really nice.,
evo: There's not a world where you drive in a relaxed manner is there?
No not yet. no.
with apologies to Car and Driver and Dan Gurney...