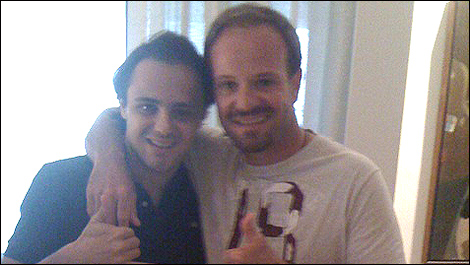 Ouch, old Rubens just cannot get any respect, not even from his buddy and compatriot Felipe Massa.
Massa, in an interview in Germany's Sport Bild, answered Luca di Montezemolo call for him to step up his performance and help Alonso with a resounding " you're not gonna make me your bitch, like Rubens"!
"I'm sure Ferrari will not make of me another Rubens Barrichello. If this were to happen, I would stop racing for Ferrari, I will not take part in any race where the objective is to come in second"
Nice words Felipe but perhaps then you should not have pulled over in Germany then. At least Barrichello waited until the final straight.
Looks to me like Felipe is negotiating for next year, he'll help Alonso these four races if he can get an assurance of parity for 2011. The reply came promptly from Montezuma himself: "Felipe will always be a first drive at Ferrari, I expect from him first drive performances in the final races and next year"
Translation: "Felipe you shot your mouth off against the team, if you don't come in precisely one position behind Alonso for the rest of the season, you're toast"
end of post