In reply to
Charlie Whiting declarations
that Ferrari had ample and timely warning about Alonso's pass on Kubica's Renault, Maranello has released the following timeline in an article in today's Gazzetta.
13:31:05
Alonso makes the pass on Kubica in turn 9.
13:31:06
Ferrari sporting director Massimo Rivola calls race control. Whiting picks up after 11 seconds. Rivola asks if Race Control had seen the pass and adds that in Ferrari's opinion Alonso had no choice as Kubica left him no space. Whiting replies that he has to look at the pictures.
13:33:00
Ferrari calls Whiting again (after waiting 1:55). By now Alonso has caught up with Rosberg and Alguersauri and Kubica is losing ground. Whiting replies that the stewards thinking Alonso should give the position back. Rivola asks if this is their final decision, Whiting replies that no, it is not but that's what they are leaning towards. By now Alonso has passed Alguersauri and Kubica has fallen further back.
13:33:22
Rivola informs Whiting that Kubica is no longer in the position behind Alonso, that Alguersauri is now there meaning the Ferrari driver would have to conceed two positions. Meanwhile Kubica has been passes by Barrichello. Whiting tells Ferrari "we gave you the chance to give Kubica the position back or not. At this point the stewards will question the drivers after the race, but I understand your position".
13:35:30
Kubica retires.
13:45:31
A message that Alonso is under investigation appears un the monitors.
13:46:26
Alonso is given a drive through.
So, it's not quite as cut and dry as Charlie Whiting had said after the race and it still shows a very long time between infraction and punishment twelve minutes and coincidentally right as the safety car was being deployed.
You can understand Ferrari's hesitance given the situation and how unevenly these rules have been applied in the past. 2006, Monza, Alonso then driving for Renault put four wheels off while passing Heidfeld but was not given a penalty. 2009 Monaco, Massa missed the chicane after the tunnel while trying a move on Rosberg. On that occasion he gave the position back but in the process lost position to Vettel as well. At the time Whilting told Ferrari it was Massa's own fault and that he should have waited longer before letting Rosberg back through.
You want to keep a certain amount of leeway in these decisions though, otherwise if you apply the "4 wheels outside the white lines" rule what would you have to do, penalize a move like Rosberg put on Aguersauri with all wheels off?
All said and done though, it is still our opinion Ferrari was terribly naive to think Alonso would not get the book thrown at him at Silverstone and the better choice would have been to immediately give back the position.
(timeline: Gazzetta Dello Sport/Ferrari)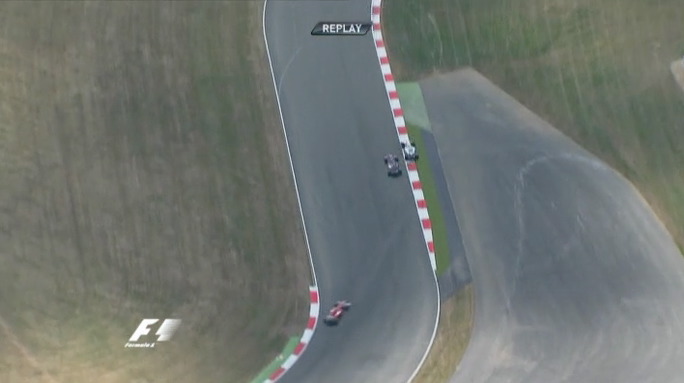 end of post