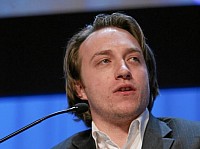 OK... I'm just going to sum up what was on Motorsport-Total site today, goes like this:
USF1 have not been able to build a car and US investors have decided not to drop any more money into that hole when it became clear they would not be able to make the first couple of races. Campos has a Dallara chassis contract but still can't pay the bill.
Solution, Hurley and US investors would buy Campos's chassis and somehow merge the two teams into one operation. All this instigated by Bernie Ecclestone naturally and leaving a free spot for StefanGP and their ex Toyota chassis...
When Motorsport.Total rang Dallara CEO Andrea Pontremoli for comment he claimed a delegation representing Chad Hurley and made up of ex Red Bull and Dallara engineer Gunther Steiner and Parris Mullins (Ferrari-Maserati Silicon Valley) was in his office at that very moment.
What do you think? There has been a lot of smoke around USF1 and Campos, do we have a fire?
home