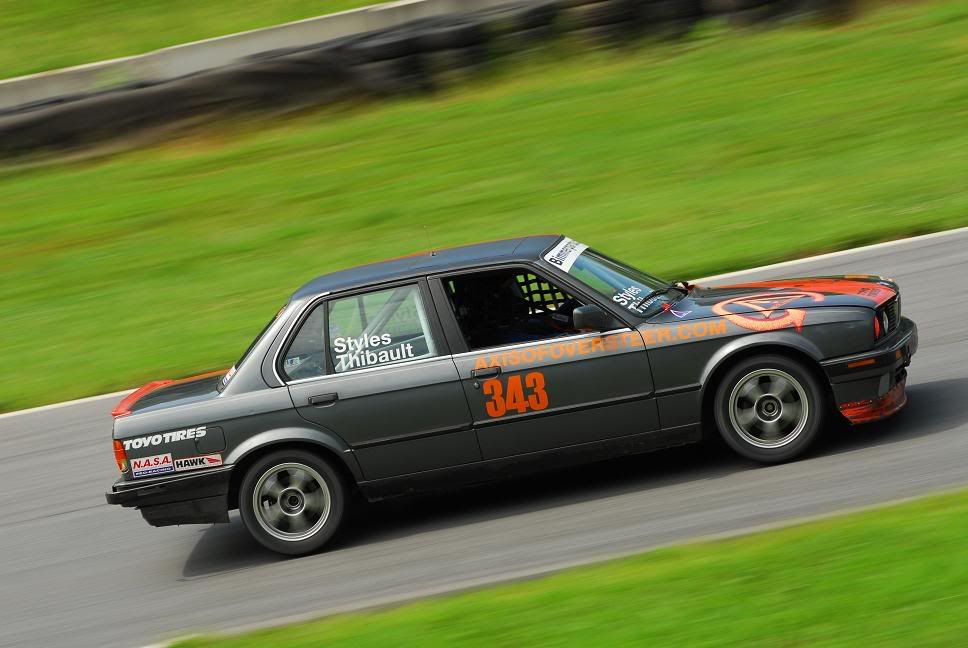 The Axis spec e30 division was at Summit Point for the
NASA Mid-Atlantic
race and our own Fearless Freep sent us this report from Day 2:
Day 2 produced another P4 quali result and a P6 finish out of 14 cars for Pete Thibault and Team Axis.
Robert Allen was on pole followed by Skip Bennet, followed by Johnny Allen and then Pete. Behind Pete was "The Hedgehog," Chris Cobetto and the rest of the pack.
Pete got a good start but was immediately out-powered by Cobetto who passed him before Turn 3. During the race, Pete suffered contact from behind when in Turn 1 his car slipped out of gear and Carter Hunt popped him from behind. Carter's car took the real damage and its hood release was triggered but they both soldiered on.
The next moment of fun came when Pete got into an argument with his ABS computer and the ABS won. Pete sailed off Turn 5. He reentered the track behind Carter, only loosing the one place. As the middle-of-class cars, Pete and Carter then joined forces and began to catch the front pack, using a good bumpdraft technique from about 6 seconds behind Robert Grace. They closed the gap somewhat as lap traffic and tire wear came into play (Pete's RA1 pressures were perfect thanks to help from a well knows ALMS team which shall remain anonymous), but the two ran out of race. After pushing Hunt around helpfully, Pete took a superb run through T10 and passed Carter at the checker flag for 6th place.
#343 Driver Quote, Peter "It Wasn't My Fault, Don't Call Me Fat, Stand Back And Let Me Fix It" Thibault:

"I had an excellent car today, better than yesterday thanks to fresh Toyos and some alignment tuning. Had I been able to keep it on the track, I'd have been fighting for podiums both days."
#343 Acting Crew Chief, Fearless "Why The Hell Am I Not Racing" Freep:
"I gave Peter a good car both days and helped him strap his fat belly in both days. Photos of Justin's sister were strategically placed in the cockpit and may have caused the offroad excursions... We'll revisit the cockpit photo strategy before the next race. My biggest challenge of the weekend was when I had to get us packed up and out of West Virginia as quickly as possible so the stewards couldn't find #343. My work here is done."
Videos from Thibault's and Robert Allen's cars are after the
JUMP