In the immortal words in Hamster Hammond, this can only go well.
The plan was brilliant in it's elegant simplicity. Take Stee's by now fully rebuilt 1997 boxster and get rid of the last remaining annoyance namely it's anemic engine. It made sense, in the absence of a viable "spec boxster" class anywhere on the east coast, the car was both outclassed in NASA GT racing and rather dull to drive at track days.
The stock engine was a 2.5 liter rated 201 HP at the crank and 174 at the wheels verified.
The new engine would be a 3.4 liter out of a 2000 Carrera. This is the one to use as it does not have an electronic thottle. The prediction called for 300HP at the crank and something like 250 to 280 at the wheels.
It was not an inexpensive job but for Stee with a fixed up and caged chassis, it was either that or sell the car and start from scratch again. In addition the car would receive and lightweight flywheel, a 996 sport clutch and a limited slip differential.
So Stee does finds a reputable shop who offers a great deal on the proper engine and installation and after two weeks picked up the car yesterday.
What could possibly go wrong? Well, for starters, the engine will not rev past 6600 rpm. A proper Carrera 3.4 will rev to 7100rpm. The dyno graph shows the promised 250hp to the wheels but the missing 500 rpm would certainly come in useful.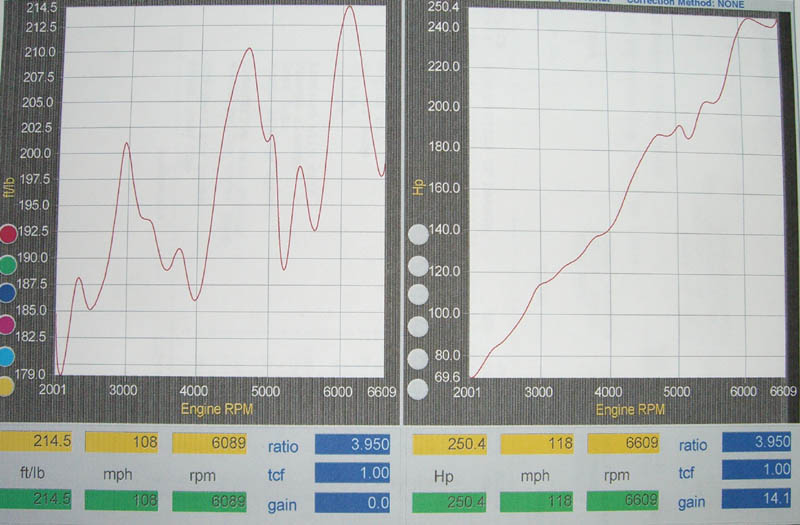 Stee was told that because the engine came with an older style ECU ( part number ending in .01) cannot be re-flashed with the proper software. That begs the question, what happenend to the proper software in the first place? There is a thought that somehow the engine is running the 2.5l software instead.
Stee is also unhappy by the jagged look of the torque curve on the graph, the shop tells him this is standard for 996 engines with stock manifolds.
Some of our readers must be Porsche experts, do you have any ideas or suggestions before Stee commits a desperate and violent act?!