Sebastian Vettel got seriously ripped into by Mark Webber (and Scott Speed fans) for running into the back of the australian last Sunday but I'm not sure he is at fault. TV pictures were not clear but look at this amateur video from YouTube Japan:
Hamilton does a weid lurch to the right and almost stops. Webber almost passes him and when he realizes his mistake, lifts. Vettel, directly behind in the spray can do nothing but run into him...
UPDATE!
I posted the video below late last night, this morning I wake up to headlines of "Hamilton under investigation"! Seems this youTube Video came into the hands of FIA stewards who are asking the same questions our readers asked about Hamilton's odd driving behind the Safety Car. Axis of Oversteer was on pole position for this one!
Hmmm.... Fair use...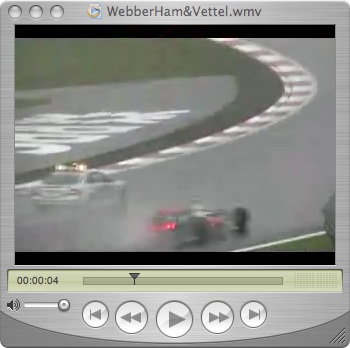 download