I always loved the 1930's Auto Union Grand Prix cars. They were amazing machines ahead of their time, 20 years ahead of John Cooper as far as layout. That Tazio Nuvolari drove them is also another major plus!
The Type-d is also a true bit of automotive sculpture. But the Type-C was the real monster: the six liter v16 pushrod engine was designed by Ferdinand Porsche ran on alcohol and output some 520 hp. Now..this, in 1936!
Imagine if you will, in an era where some consider 275/35/18 tires small, running a 520 hp car on 7 inch rear and 5.25 inch fronts...all with the finest in 1930's tire technology. That translates into a 175/19 rear and a 135/17 fronts....
No wonder it is said the car could induce wheel spin at 150 mph. Weeee!!
Here is a clip I found of a type-c engine being started up at a demo event, please nte how far herr Audi-Executive holding the umbrella jumps!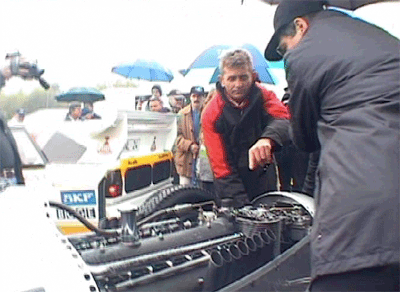 And here is a clip of the cars in action, now those guys truly had balls.
( note to the Bimmerforums guys: Please do not post comments about Nuvolari being unsafe for driving in short sleeves!)
Discuss this post on the AXIS FORUMS