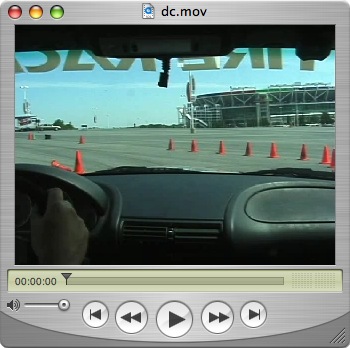 Click picture above or here
Let's face it, as rabid as a car nut as you might be, getting to a track often enough to satisfy the 10/10ths jones is just not as easy as it ought to be for us in the northeast.
What better way to satisfy the urge then than waste a Sunday on a boiling hot parking lot engaged in one of the more technically challenging things to do well with a car.
Autocross
, or Solo II as
defined by the SCCA
is, in the immortal words of BadbadM "the only thing more frustrating than golf".
People will jump up and down telling you it's 10 minutes of driving for 6 hours of waiting, and it is, but so is ski racing 2 minutes of skiing for 6 hours of waiting....See what I mean? The key here is the competition. And competition in autocross is pretty fierce with top runs separated by literally 1/100th of a second. The frustrated have little patience for it but the true competitors find a way to have a great time.
The video above is from my best run at the
SCCA/TireRack National Tour
from 2004 in Washington DC.. It's a sentimental favorite of mine because for the first and likely only time in the history of SCCA national competition a
BMW M Coupe beat a Corvette Z06 in ASP class competition!
It was a bit of a fluke but I'll take it!
As you can see fast autocrossing is an exercise in controlled aggression, you need to be at 10/10ths but you have almost no margin for error. Of course what makes it fun is also the extremely low risk involved though I have seen at least 3 car totalled at events, two killed by light poles and one by a curb. It is not unheard of for cars to
flip over
as well because of the huge grip some of these cars and tires can develop.